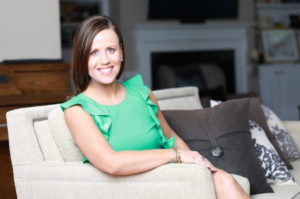 Allison Caudle Abbott is the Owner and Broker-In-Charge at Southern Lux Living.
Raised in Raleigh as the middle child of three daughters, Allison Caudle Abbott grew up watching her parents balance family life with business ownership. She followed in their footsteps, now splitting her time between her role as mom of two daughters in her newly blended family and her role as the Owner and Broker-in-Charge at Southern Lux Living.
A REALTOR® / Broker since 2007, Allison is in hot demand, serving the real estate needs of the Triangle and surrounding areas. She co-opened an international real estate company in 2014, which grew to over 50 agents, closing over 800 houses a year. Allison herself has been listed among the top agents in the North Carolina, having sold over $300 million in real estate. She holds multiple awards for being Top Producer in the industry.
"I truly love what I do," says Allison. "I listen, I'm patient, I educate, I help, I do what I say I'm going to do, and I'm there until the end. Working with buyers and sellers is such a deep passion of mine. Staging homes, watching people fall in love with a home, hearing stories of how couples met, meeting the entire family, hearing squeals of kids as they pick their rooms during the final walk-through, watching sellers glow with pride as they give me a tour of their home—for me, this is what it's all about."
Her goal is not only 100% customer satisfaction, but also achieving 100% personal satisfaction in the home/work life balance. "Anywhere my family is, is home," says Allison, as she demonstrates how working mothers can balance the exciting demands of a career with the comforts of family life.
The satisfaction Allison gets from being a mom does not mean everything is flawless all the time. "We are raising two girls," Allison says, "so I try to be a strong role model for them. It's hard juggling sometimes and you don't want to show your kids you struggle. But at the same time, you want them to know it's ok not to be perfect all the time and hard work is key to being successful."
She prioritizes her family by taking her daughters to school and shopping; by attending school events, theater practice, and concerts; and enjoying singalong car rides. While there's not a lot of downtime, Allison does get a little bit of "me" time in the mornings: "I get up every morning, make break- fast and lunch for everyone, turn on the news, drink my coffee and have 30 minutes to myself. Then it is FULL on!"
On the business side, Allison incorporates her family by making sure her clients know that her family is her "Why," and she tries to put aside the mom guilt of needing to work long hours. Allison admits she has trouble asking for help herself, but encourages other working mothers to do so: "Don't be scared to show you need help. Don't be afraid to ask for it."
Sometimes for Allison, help even comes from her daughters who help staging homes and drop off fliers, and provide support in the social media and technology realms. That said, she also sets boundaries around phone and computer time. When she and her family are having a conversation, she's puts down her phone and is present. That feeling of being present is key, Allison says, both with others, and with yourself. It's just as important to take time for you and to take time alone with your romantic partner. Let your children see where your priorities lie, and they will learn by example.
"I think when I started feeling comfortable vocalizing my 'why,' I knew nothing could stop me. When I get to do what I love every day, make a good living out of it, AND raise my daughters…trust me, I know how fortunate I am. I love being a mom, I love real estate, and lucky me, I get to do them both!