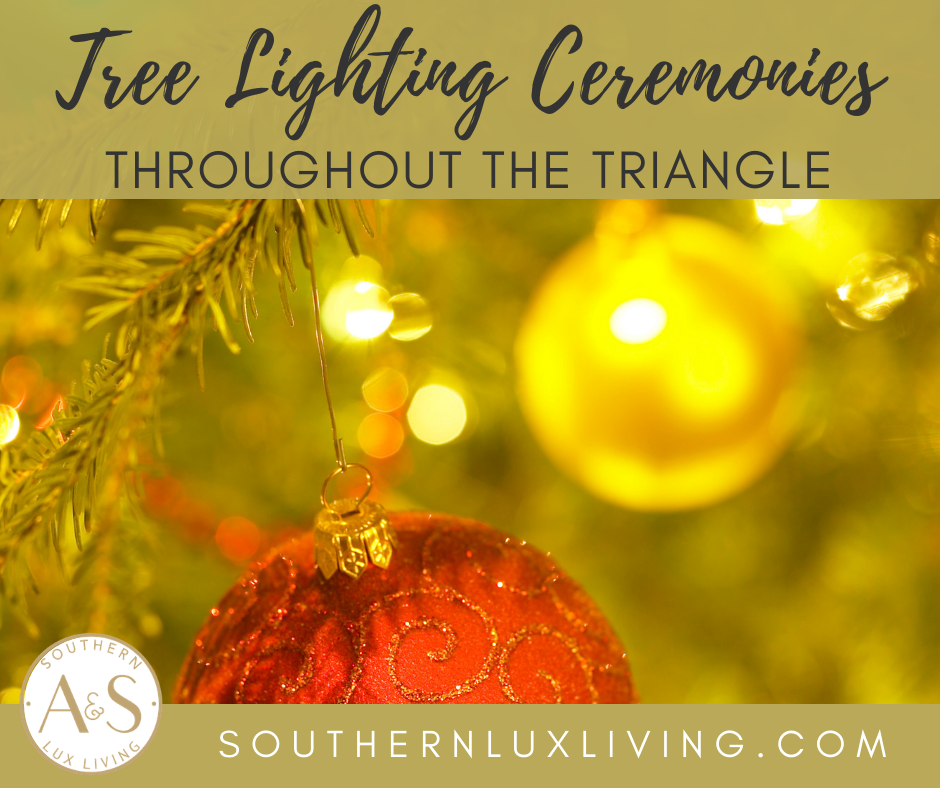 TREE LIGHTING CEREMONIES THROUGHOUT THE TRIANGLE
Yes, we're aware it's not even Thanksgiving yet, but we are ready to spread some holiday cheer!! Holiday lighting ceremonies are already beginning and it's a magical time of year. Luckily there are many options and locations to watch tree lightings and light displays around the Triangle.
Get out and enjoy the community, meet your neighbors and soak in this magical time of year!
SPARKLE NIGHT TREE LIGHTING
Friday, November 9th @ 5-7pm
Holly Springs Towne Center
100 Grand Hill Pl. Holly Springs, NC
ANNUAL NORTH HILLS TREE LIGHTING CELEBRATION (MIDTOWN, RALEIGH)
Saturday, November 17th @ 3:30-7:30PM
https://visitnorthhills.com/events/annual-tree-lighting/
WAVERLY PLACE TREE LIGHTING (CARY)
Friday, November 16th @ 6:30-8:30PM
https://waverlycary.com/events/tree-lighting-ceremony/
LAFAYETTE VILLAGE TREE LIGHTING (NORTH RALEIGH)
Saturday, November 17th 3:00-5:30PM {Events}
Tree lighting @ 5:30PM SHARP!
https://lafayettevillageraleigh.com/lighting-of-the-tree/
APEX: CHRISTMAS ON SALEM STREET
Friday, November 30th @ 5-9PM
https://www.facebook.com/events/733907733610680/
DOWNTOWN RALEIGH TREE LIGHTING CEREMONY
Friday, November 30th @ 6-7pm
https://www.godowntownraleigh.com/event/downtown-raleigh-tree-lighting-celebration-1
CARY CHRISTMAS TREE LIGHTING
Saturday, December 1 @ 6:00PM
https://www.townofcary.org/recreation-enjoyment/events/holiday-events/heart-of-the-holidays-celebration/christmas-tree-lighting
FUQUAY-VARINA: TOWN TREE LIGHTING
Thursday, November 29 @ 6:00PM
https://fuquay-varina.org/Calendar.aspx?EID=2955&month=11&year=2018&day=2&calType=0
GARNER: LIGHT UP MAIN
Friday, November 30 @ 6-8PM
https://www.garnernc.gov/departments/parks-recreation-and-cultural-resources/events/light-up-main
HOLLY SPRINGS: MAIN STREET CHRISTMAS
Friday, December 7, 2018, 6-8 p.m..
Holly Springs Town Hall and Cultural Center
https://hollyspringsnc.us/359/Main-Street-Christmas
KNIGHTDALE: CHRISTMAS ON FIRST AVENUE
Saturday, December 1 @ 6-8PM
https://www.knightdalenc.gov/departments/parks-recreation-and-cultural-programs/festivals-and-events/christmas-1st-avenue
MORRISVILLE: HOLIDAY TREE LIGHTING
Friday, November 30 @ 7-9PM
https://www.townofmorrisville.org/government/departments-services/parks-recreation-cultural-resources/special-events/tree-lighting
WAKE FOREST: LIGHTING OF WAKE FOREST
Friday, November 30 @ 6PM
https://www.wakeforestnc.gov/lighting-of-wake-forest.aspx
ZEBULON: CAROLING & CHRISTMAS TREE LIGHTING
Saturday, December 1 @ 4-8PM